Posted by
DSJ
in
Education
,
Leadership
,
Learning
,
School Change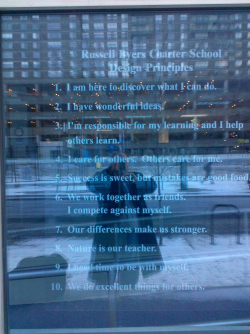 Look into our school through the lens that we believe in…
As you walk to the Science Leadership Academy from the Educon conference hotels, you walk past this school.  And it's right there in the window, and if you're paying attention, you'll stop and read the hanging sign in the window, posted for everyone to see.
The school on the way to SLA is the Russell Byers Charter School.  What is in the window is a sign that makes clear the "design principles" of the school, written from the perspective of student expectations.  There are ten statements, printed on a transparent piece of plexiglas, which in itself sends a message.
Here they are:
I make choices that help me learn and do my best work.
I am aware of the needs of others and do great things for them.
I learn about myself and all that I can do by trying new things.
I think of new ideas and share them with others.
I think about people's feelings and help take care of others.
I learn from my mistakes and build on the things that I do well.
I work with others to learn and complete a task.  I push myself to do my personal best and keep improving.
I learn about and respect different people and include everyone.
I care for and learn from nature.
I take time by myself to think about what I have learned.
There is much commentary in various online venues about school change, and the need for it.  I certainly don't dispute that need, but I wonder how many schools have taken the steps to deeply consider and identify their core beliefs together.  Understanding what everyone is working towards is what change should be about.
How many schools have clearly identified those beliefs, and made those visible in the way Russell Byers has?  Because it does send a message that this is what we believe in, what we want our students to be, what our learning experiences are grounded by, what we measure success by…
Of course, what Russell Byers has communicated here is a vision, or what my friend Adam Paikai calls a "future preferred state."  That doesn't necessarily identify an endpoint because I doubt that there are any endpoints in education, but the statements above clearly communicate what the school wants its culture and climate to be.
If the expectation is that schools must change, where is the place that change will take schools?  Has your school identified that place?  A set of beliefs like the Byers school has composed make clear where that place is, and is a first step towards a common understanding of what is valued, and where and what everyone is working towards. You can't change schools unless you have that.
7 Comments »